Automate Compliance Monitoring and Improve OEE
Manually monitoring and logging vibration or temperature measurements for compliance and safety is an unreliable and tedious process. When you place our matchbox-sized wireless sensors on your machines, they send real-time measurements to any device and stores the information for compliance reporting – no more manual logs. With Swift Sensors you can demonstrate compliance 24/7/365, and get notified when equipment is out of range so you can take immediate action. Protect your employees and valuable machinery.
No wires to install.
No sensor configuration required.
Calibration offsets available.
Install in minutes.
Battery life approximately 6 – 8 years.
How smart solutions works
The Swift Sensors Cloud-based Wireless Sensor System is a simple, yet cost-effective solution for automated temperature monitoring within a manufacturing plant or facility. Utilizing the best practices in security with 256-bit enterprise encryption, ISO 27001 secure data storage, and SSL encrypted communication, our system is secure upon install. To start using our system, a Swift Sensors gateway is required to sync and communicate with Swift Sensors. Once the gateway has synced with the sensors, users can begin setting up their accounts within the Swift Sensors Console.
The Swift Sensors Console is the control and storage center for the entire distributed sensing system. The system process and stores the sensor data with built-in redundancies. The system is scalable from a single sensor, one-site applications through multi-site enterprises with 1000s of sensor types combined in one unified system. To use the Swift Sensors Console, a basic or professional console subscription is required for sensor data storage, complex thresholds and notifications, custom dashboards, analytics, compliance reporting and more.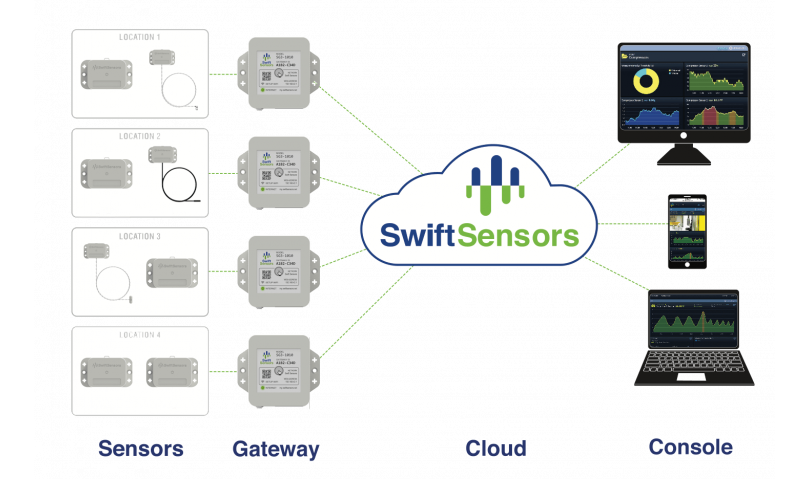 Features and benefits